Today LumApps announces the appointment of Renaud Perrier as Chief Product Officer (CPO). This key new hire will help LumApps sustain its ambitious growth plans whilst providing significant experience in product strategy.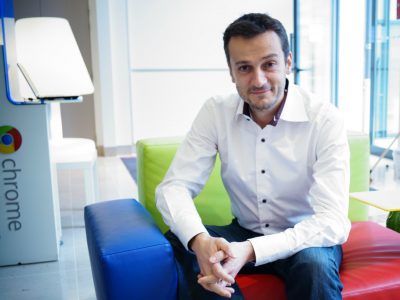 Renaud previously worked at Google and Microsoft and has over 20 years of experience in information technology. He's worked in a variety of roles across the sector including sales, engineering, product management and tech partnerships and was a pioneer in the early stages of the Cloud industry.
'Joining this rising startup was a natural choice,' said Renaud Perrier, 'I wanted a challenge and couldn't help but notice LumApps' exponential growth curve and the potential of the product offering. My goal is for LumApps to become the global leader in Communication Platform and then in Digital Enterprise markets.'
Accelerating international expansion
Over the past year, LumApps has doubled in size and witnessed a rapid expansion into the United States. New offices include; New York, San Francisco, Austin and Tokyo. Notably, LumApps is one of only 200 European companies across all sectors that have shown yearly growth over 100%. This year our customer base has tripled, with household names such as Colgate-Palmolive, Global Payments and the TMX Group adopting the technology in 2017. Over the calendar year, LumApps revenue grew by 250% and is forecast to rise more in 2018.
This growth was supported by an investment of $8M raised in a Series A Round led by Idinvest Partners early in 2017. This financial investment has crowned a year of success for LumApps.
Looking ahead to 2018, LumApps expansion plans center on the Americas and JAPAC territories. As such, a dedicated team of Spanish-speaking professionals have joined US teams to focus efforts on Latin America (LATAM). 'Over the past two years we've grown internationally and now serve many Fortune 500 and Forbes 2000 customers,' said Sébastien Ricard. 'While the United States is fast becoming our biggest market, we wish to develop our presence in countries across Latin America, Japan and the Asia-Pacific region.'
About LumApps
Founded in 2012, LumApps has offices in Paris, London, Tokyo, San Francisco and New York.
Fully integrated with Google's G Suite, LumApps is an enterprise portal that connects and engages employees to leverage all internal communications in a central hub. In 2016, LumApps became the only intranet officially recommended by Google and in 2017 won the Google Cloud Global Partner Award for Solution Innovation, rewarding the company for its contribution to the G Suite experience.
---
For all media enquiries, please contact Maya Riebel (maya @ lumapps.com)