After visiting Barcelona in April for a GCC Meetup, LumApps sent a team of three people to Google Next Madrid on June 8 2017, an annual event covering the Iberian market (Spain and Portugal). Among them were our VP Sales Philippe Gless, Sales Representative Guillaume Damagnez and our new Project Manager Michael Guimet, all of them hungry for more than just tapas.
A new addition to our team
A Spanish citizen and trilingual Project Manager fluent in French and English, Michael has become an essential asset to LumApps, going above and beyond expectations to quickly take on various projects in multiple languages.
Sending him to Madrid was an obvious choice, considering his lightening-fast adaptation to LumApps culture and not least, his ability to demo LumApps in Spanish!
Strong interest from Iberian companies
Our team enjoyed the cheerful atmosphere at Google NEXT Madrid, with an attendance of around 1,500 tech professionals.
Guillaume led a 12-minute talk on stage in front of 150 people, during a session hosted by Piergiorgio of Google, on the subject of "Extensions for Google Suite."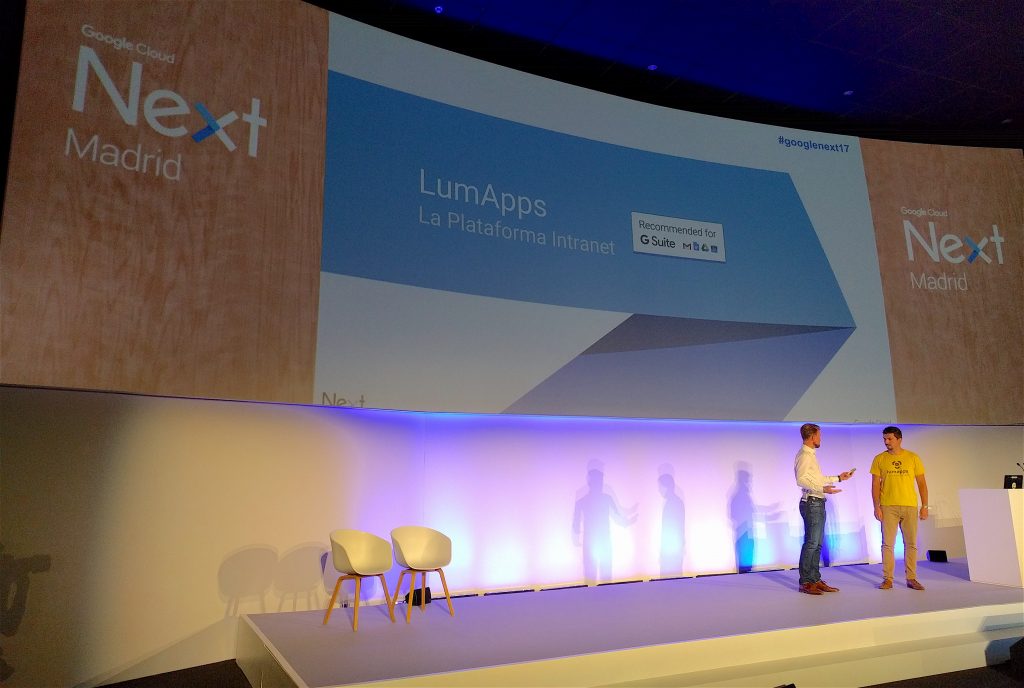 Michael held the fort at the LumApps booth, providing intranet demos in Spanish, while Guillaume chatted with many clients and prospects, opening opportunities with companies (including large groups) in many different sectors, such as energy, banking, education, transportation and retail.
Furthermore, our reselling partners confirmed that according to their clients and compared to our competitors, LumApps has proven itself to be the superior intranet on two major points: product quality and execution.
A crucial market for LumApps
It was essential for LumApps to attend Madrid as part of our global Google Next tour, since Spain has become one of our key European markets. LumApps is also angling for a top position in the Iberian education market.
Among our existing clients, LumApps is happy to work with X-Elio (through our partnership with Devoteam): a global player in the Renewable Energies sector, specialized in solar technology. We have also recently signed with TIC Kobex, a company providing computer services and applications for its parent group, Grupo Noria Logistica, a leading player in the market for electronic equipment distribution.
Our team left Google NEXT Madrid with the definite feeling that the Spanish market is promising and full of potential, with businesses ripe for LumApps' customizable social portal.